Today's Fabulous Friday bride is Wendy. I love she is a non-traditional bride who didn't have to have a wedding to start her life. You can just see the happiness exude from both of them. And how sweet and cute are Wendy and Josh's little ones? Congratuations Wendy & Josh!!!
Couple: Wendy and Josh
Date & Location: April 12, 2014 at our home in Clearwater, Florida
Theme/Feel: Comfortable, black and white
"We asked all the guests to wear black and white. It was a way to link everyone together and help them to see their similarities because we had lived in various cities over the years and many of the guests had never met each other, but they were all connected through us. I also told everyone to dress comfortably, after all, it was a party. The centerpieces were vintage, black and white household items I found or already had."
Dress: Newport Beach without polka dot overlay
Favorite moments from the wedding: "The whole day was fabulous and choosing a favorite moment seems impossible but 2 moments stand out, my walk down the aisle and getting lost in a kiss when we were supposed to be posing for the photographer. Walking down the aisle I just remember thinking, "This is really happening! YEA!" We had dated for 7 years and we have known each other more than 20, but every time we started planning a wedding, we would encounter a major life event. We each lost a parent and we each lost a job over those 7 years. We had 2 children, and moved 3 times. Every time we thought we were going to have a wedding, something else happened, so when the time finally came, I was just so excited! I couldn't stop smiling! Then during the reception, as the sun was setting, we wanted to get some pictures next to two trees decorated with lights. The photographer said get close and we did. Then we started kissing and before I knew it, I remembered that I was kissing my HUSBAND and it became a sweet embrace. Once the kiss ended, we were all smiles. This was the result..."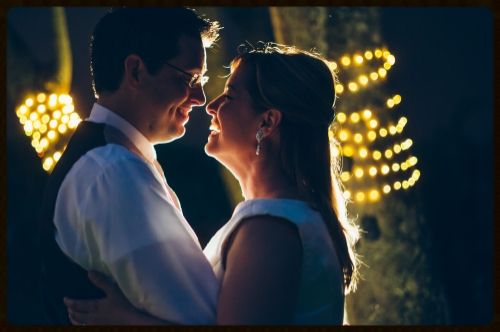 Advice for future Dolly Couture brides: "My advice for Dolly Couture brides is to think about the little things you might need that day. Things like...a pen for the guest registry, which I forgot. Breath mints, which I borrowed from a guest. I love my dress and I had known I wanted a Dolly Couture Newport Beach dress with black trim since I first tried it on in her boutique in 2010 (the year I thought we might get married). I only wish I had thought about the fact that I might need pockets for a tissue!"