It's Fabulous Friday, and we have a pretty fabulous bride today! Inga is one of our amazing international brides who trust us from afar to make their perfect wedding gown. She never even tried the dress on, but we worked together to create her beautiful Moon River. I loved everything about their wedding - the arrival (come on?!), the music, the attire, the location, the pops of red, her hair....everything. I know you all will too! Enjoy!

Couple's Name: Inga & Knut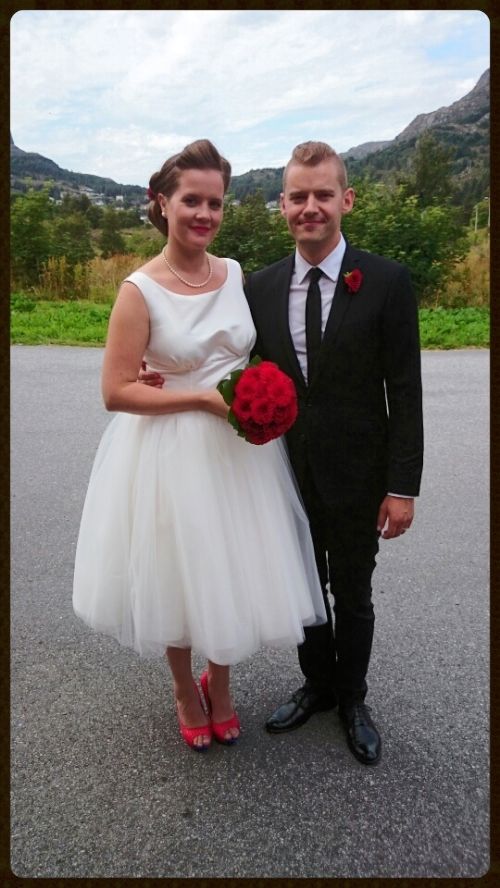 Wedding Date & Location: "We were wed on July 26th 2014, in the English garden at Vågsberget Handelsstad in the western part of Norway."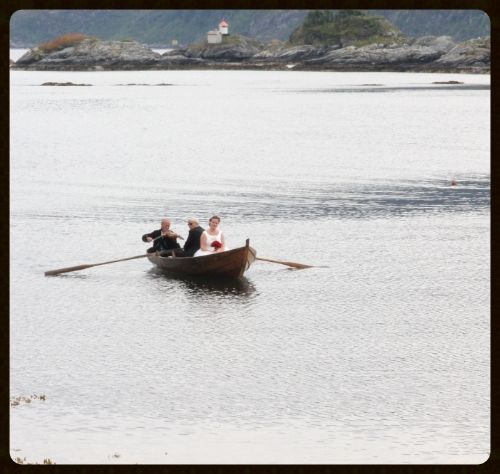 Theme/Color/Style:"We didn't have a theme, but we did have red polka dots as a detail that was present in everything from my shoes to the table decorations."
Dress: "I wore a Moon River dress."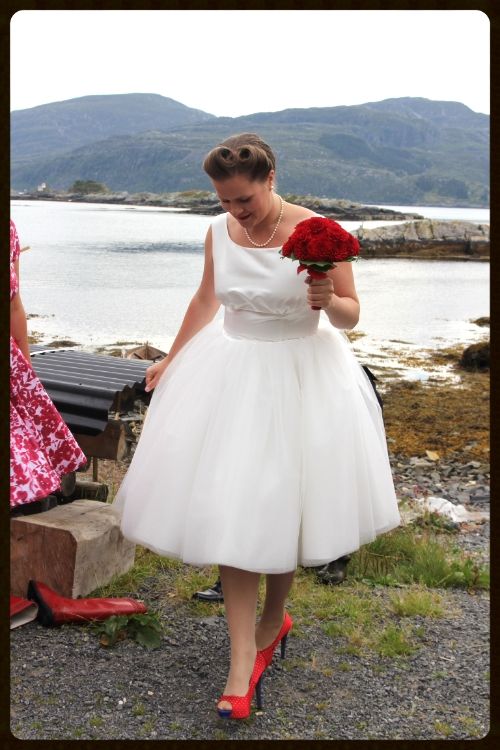 Favorite moment(s) from the wedding: "There were so many favourite moments, it's hard to pick just one. Maybe when my dear friends performed "Falling in love with you again" by Imelda May as part of the wedding ceremony. I felt every word."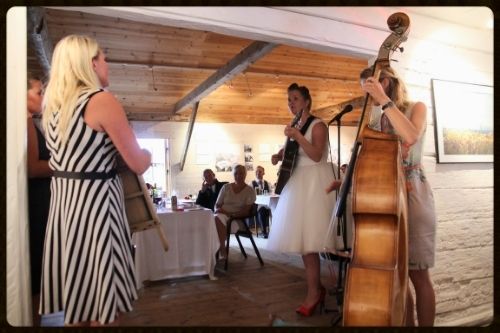 What made you choose Dolly Couture: "I fell in love with my dress as soon as I saw the first picture of it, browzing for a short 50's wedding dress. I wrote an email to Dolly Couture, and my impression was that these are people who know what they are doing. I also felt that I was being well taken care of. That is why I chose Dolly Couture."

Advice for future Dolly Couture brides: "If I could give any advice to future Dolly brides, it would be to give away as much of the responsabilties as you can, so that you will be able to enjoy your day without any stress. I did, and my day was magical, from the very first minute. Also, remember to hold your wedding bouquet down! I have so many pictures of me where I am holding my lovely red dahlias too high."