Today's Fabulous Friday bride is Eva. We loved the location and the overall feel of the wedding. How beautiful did she look in the Newport Beach with her handsome hubs Ian beside her?
Couple: Eva & Ian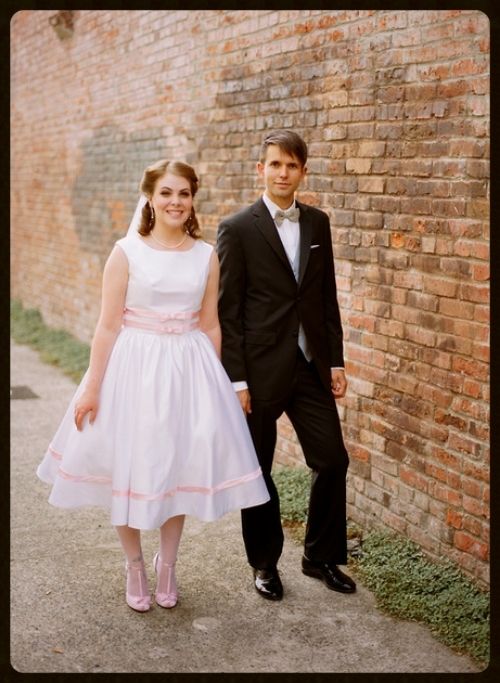 Location: Ray's Boathouse in Seattle, WA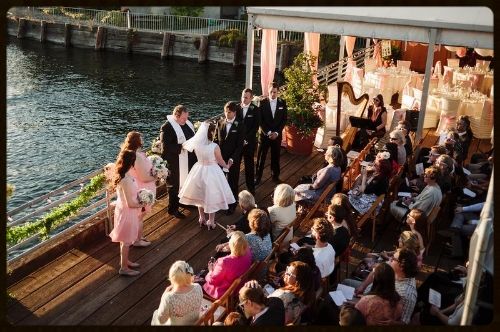 Theme/Design/Colors/Style: "Timeless elegance with a flirty, feminine twist. The colors were various shades of light pink and white. We wanted to incorporate that vintage feeling in my dress, throughout the whole wedding. Guests were given white Ray-Ban style shades as favors, and we decorated with milk glass, pink depression glass, and mercury glass. We tried to evoke days gone by, without it seeming like the theme was 'vintage wedding'."
Dress: The Newport Beach with light pink ribbon accents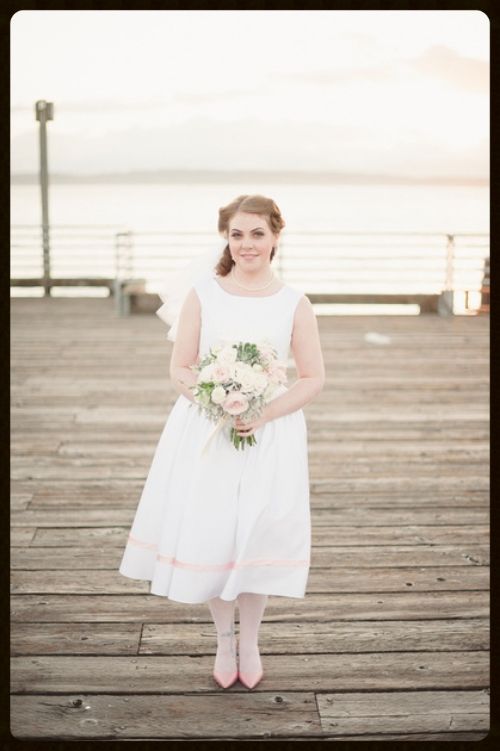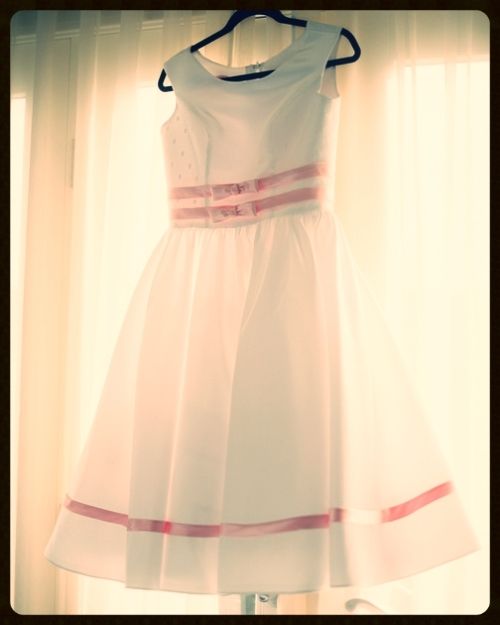 Favorite moment from the wedding: "It's very hard to pick my favorite part, because it was all so magical. That said, I'm really close to my dad, and throughout the whole wedding process, it sort of seemed like he wasn't really sure what his role was in planning the wedding. My favorite part of the whole day was when my dad and I had our father daughter dance to "My Girl" by The Temptations. We laughed and boogied down, and it was just so nice to see him having such a great time!"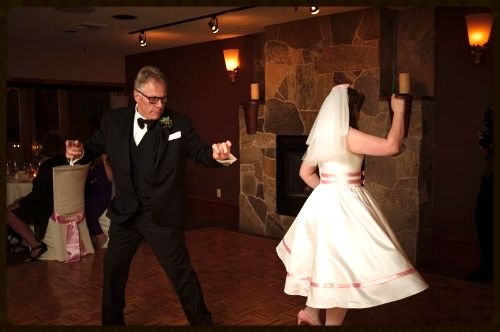 Why you choose Dolly Couture: "I've always loved retro gowns and felt the style really suited me. My prom gown was a 50's inspired dress, and long before I got engaged, or even had a boyfriend, I had picked Dolly Couture as my dream dress designer. Getting my dress from the boutique in Tarzana was even more special, because my Nana, who couldn't come all the way to Seattle for the wedding due to health reasons, lives in Hollywood. I flew down and visited her for a weekend and she and I went together to pick my dress. It was a really special thing that just she and I got to do together. It's a memory we both will cherish."
Advice for future Dolly Couture brides: "Invest in a good photographer! We planned a wedding that was considered a "budget wedding" by today's standards. We didn't skimp on the photographer though, and my husband and I are so glad. Not only was our photographer (Joshua Mahar) a great help to us on the day of the wedding, (he's done this many times before, and we had not) He delivered us images that I will treasure forever. He captured even the smallest details, and every time I look back at the pictures, it's like I'm instantly there on my wedding day again, feeling all the happiness and love I felt that day. Worth every penny!"
Congratulations Eva & Ian! We wish you a lifetime of happiness!