Today's couple is perfect for Valentine's Day! Liz was a dream to work with, and we found her the perfect fabric for her Catalina. HEARTS! Her dress was all about love!
Couple's Name - Liz & Guy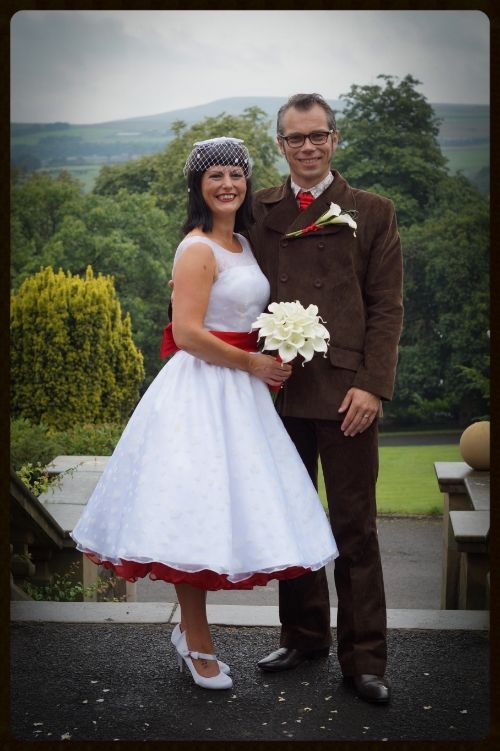 Wedding Date & Location

- Saturday 19th July, 2014

at The Haworth Art Gallery, Accrington, Lancashire, England, UK. Our Wedding Reception took place at The Peel Park Hotel, Accrington, Lancashire, England, UK.
Theme/Color/Style (if applicable) - 1950's inspired wedding; the Bride & Bridesmaids wore 1950's full circle swing dresses with peeping contrasting petticoats. The colour scheme was Red & White and I included a love heart theme: my dress had love hearts on the overlay, I had my white shoes customised with red diamante love hearts, myself and my Bridesmaids wore love heart earrings and the Wedding Favours were cupcakes with a love heart in the centre of the cake secured in a red box with love heart ribbon.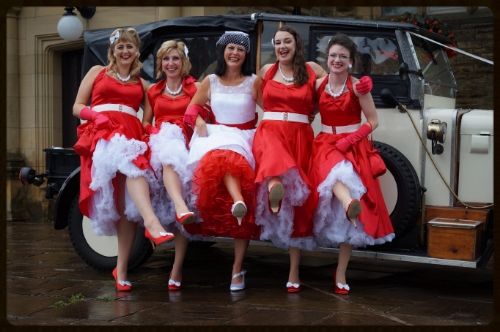 Dress - Catalina Island in white with a custom overlay using a white organza material with sparkly love heart shapes. I added a red petticoat to peep out at the bottom of the dress.
Favorite moment(s) from the wedding - We booked a Marilyn Monroe tribute (Suzie Sequin) to perform a set at our afternoon reception which we kept as a surprise from our guests. Our Master of Ceremonies gathered everyone outside, where the sun had finally started to shine, and he asked our guests to give a huge warm welcome to Miss Marilyn Monroe - our guests fell silent and weren't sure what he meant, then Marilyn walked out and everyone burst into applause! It had been a huge secret to keep (especially from the Bridesmaids!!), but well worth the look on everyone's face! There was even more surprise for everyone that evening when she performed a Burlesque Dance at our Evening Reception!

Advice for future Dolly Couture brides - O
n the day make sure that you have delegated the running of the day to one trusted person. We had lots of surprises for our guests; Marilyn Monroe, the Jukebox, the Burlesque Dance, the cake design and as much as we wanted to keep all these things between just the two of us we realised that on the day we didn't want to be worrying about what should or should not be happening next. We entrusted a very good friend with the job as Master of Ceremonies and he was told the full itinerary of the day and he made sure that everything ran to plan and in the order that we wanted so that we didn't have a thing to worry about on the day. Don't try to do anything on the day other than enjoy it, give someone else the job of worrying!