It's the middle of winter and pretty much the entire US is getting hit hard with a terrible cold snap. I thought seeing a gorgeous bride on the BEACH might warm you up a bit! Check out Sarah and her amazing short wedding dress - The Tuscany!
Couple's Name: Sarah and Dennis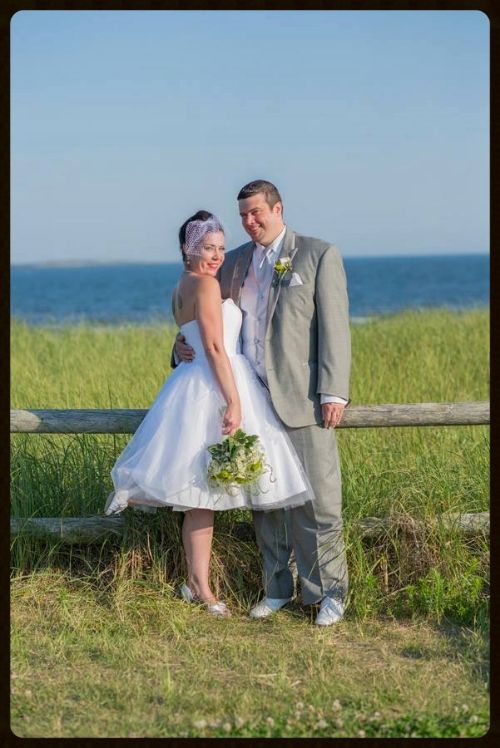 Wedding Date & Location: Scarborough/Old Orchard Beach Maine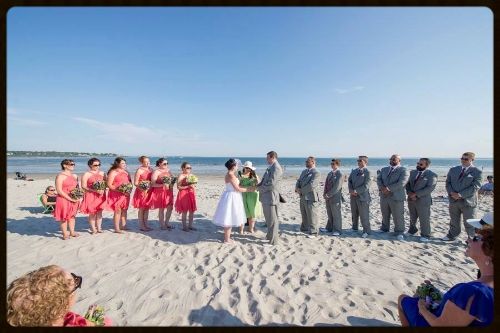 Theme: Beach

Dress: "I bought the Tuscany off the rack, and it had the following customizations already: sweetheart neckline and the hem was 1/2 inch shorter that the "made to order" version. I had to have the waist brought up about 1/4 inch (as i have a ridiculously high waist). The dress was a size 8 and really fit like a dream!"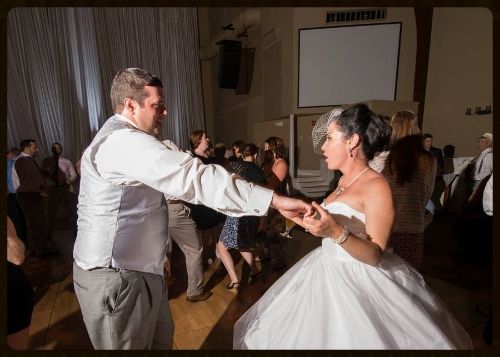 Favorite moment(s) from the wedding: "The moment that I think was most unique to our wedding (and one of my favorites!)...We got married on the beach in Maine and were surrounded by beach goers (as they can't clear off an area - you just put down chairs and hope for the best). As the photographer was taking pictures of Dennis and I, the wedding party went to the snack shack to get water. A little boy (about 6), walked up to my brother and said "Are you the groom?". His mother was apologetic saying "He is fascinated by the bride, so sorry to bother you. He just wants to say congratulations". My brother promised to pass the well wishes along to me. As Dennis and I were leaving the beach, this little boy ran up to me, starry eyed and out of breath, and said, "Congratulations-thank-you-so-much" as if it were one word. I felt like a Disney princess! Every girl says they will feel like a princess on their wedding day but that moment really made it happen for me."

Why did you choose Dolly Couture: "I chose Dolly Couture because, although I had no idea about anything else I wanted for my wedding, I knew I wanted a tea length dress. I looked at every bridal shop in my area and even bought a long dress at a sample sale that I was going to have tailored because I couldn't find anything I loved. THEN- I discovered your website. It had the most amazing selection of tea length dresses I had ever seen. THEN - I saw the Tuscany. I was absolutely obsessed with it. I looked at it every day but was very nervous about buying it sight unseen from the website. One day I went on and there was the Tuscany, in white, in my exact size, off the rack. So, I bought it!! It really was perfect. I have since recommended your site to a few people who are looking for a shorter dress. And I wish I could wear my dress every single day. It is my favorite piece of clothing I have ever owned- like you took what i wanted out of my head and created it!"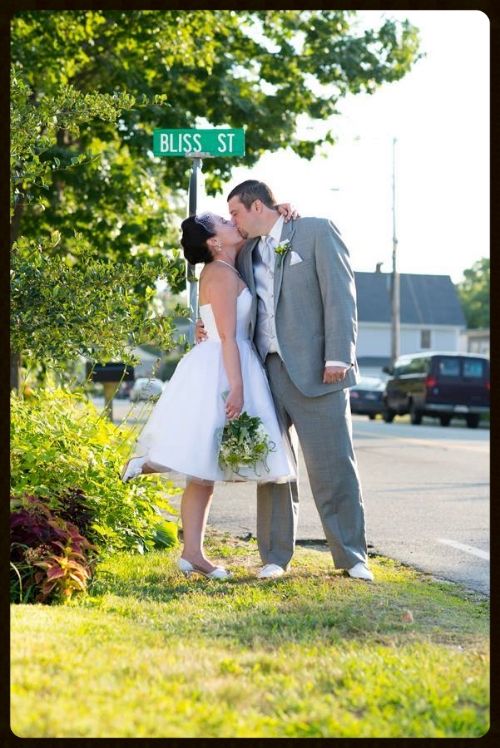 Advice for future Dolly Couture brides: "My advice to anyone considering a Dolly dress is to just do it. The quality was FAR better than anything I had tried on in, say, David's Bridal and, even without customization, was EXACTLY what I was looking for. I wish that I had just ordered it the first time I saw in, instead of spending time looking elsewhere (and buying a dress I never wore). I never had any issues, so I can't speak to your customer service but the dress itself is incredibly well made with top quality materials (as a dance teacher, I was less than impressed with the fabric used for a lot of the dresses - yours was the complete opposite. So impressed). I wish I had a reason to wear it again and have honestly though about dying it so I could wear my dress out. It's that fantastic!"