Today's Fabulous Friday bride is Lisa. I love the personal touches she added. Her bouquet brings back so many happy memories as my grandmother has several of those broches and let me play with them when I visited. I also love that Lisa is one of our many international brides. She took a leap of faith and ordered without even trying on her dress. We love that our brides are comfortable ordering a dress sight unseen. Thank you Lisa!
Enjoy Lisa and Mariusz's story! I know I did!

Couple: Lisa & Mariusz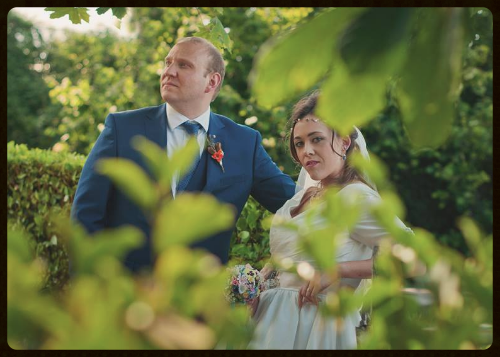 Date: June 28, 2014

Wedding Venue:
"The venue we chose is Tinakilly Country House, Co. Wicklow, an elegant Victorian country mansion set on several acres of beautifully landscaped gardens and woodlands overlooking the Irish Sea. The house itself was originally built by the British government in 1883 for Captain Robert Halpin, commander of "The Great Eastern" and mariner supreme who laid 2,600 miles of telegraphic cable in 1866, joining Europe to America. As a mark of gratitude Halpin was reportedly given a blank cheque by the British Government to build, this, his dream house."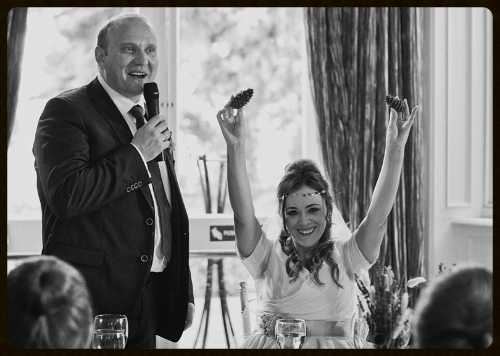 Post wedding Location:
"Donadea Forest Park which is made up of about 600 acres of mixed woodland, Medieval castle ruins, walled gardens, church, tower, ice house, boat house and Lime Tree Avenue."


Theme/Color/Style:
"A vintage inspired country soiree? We didn't have a particular theme in mind but our choices naturally reflect who we are and the sort of things we like."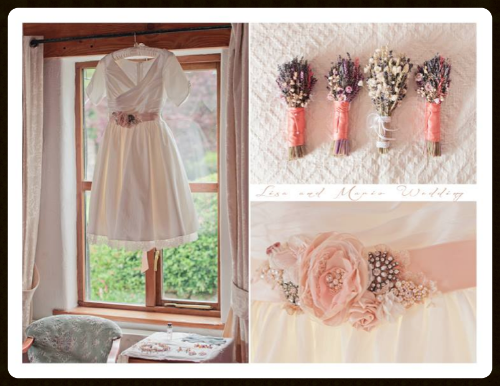 Short Wedding Dress:
"I wore the Beverlywood Dress with a handmade vintage inspired Gold Brass Blush Champagne wedding belt by LeFlowers Bridal Lithuania, a simple elbow length veil encrusted with tiny pearls from Berketex Bride Dublin, vintage robins egg blue short formal lace wedding gloves and Vivienne Westwood Anglomania for Melissa Lady Dragon Heart jelly sandals."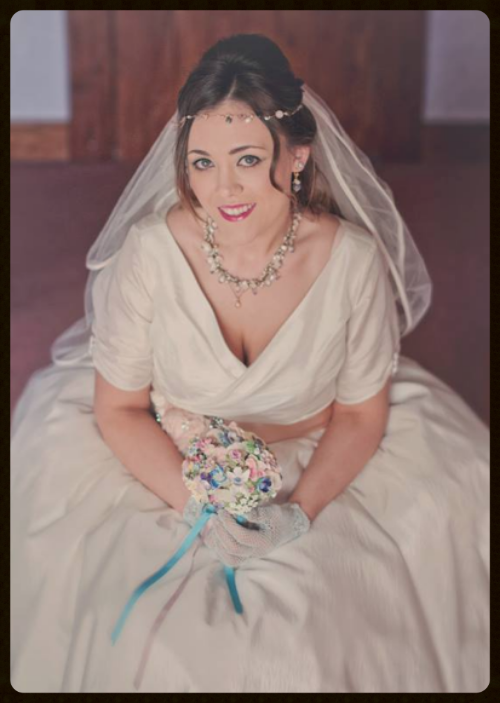 "I made my own jewellery and I had a huge collection of vintage bone china brooches - Denton, Adderley, Artone or Royal Doulton - all around 1940's, 1950's that I used create my own brooch bouquet. I have no siblings so this bouquet belongs with my new sister-in-law now."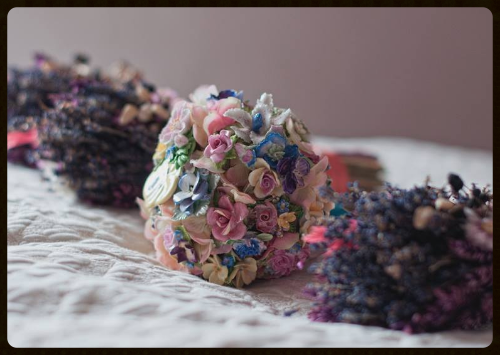 Favorite moment(s) from the wedding:
"It's hard to choose because the day is so filled with great moments. We have different nationalities and our friends and families are a little bit spread out across the globe so it's hard to get all of us together at the same place and at the same time. Walking into the ceremony room and seeing everyone there for us was a great moment."


Advice for future Dolly Couture brides:
"I knew I wanted a short wedding dress from the start, but I didn't know finding the right one would be so hard. Every dress I tried in Ireland was missing some element, and they just didn't 'feel' special in the way a wedding gown should. I found out about the Dolly Couture brand through internet research and then I eventually found a boutique in London that carried D.C. sample dresses. Up until this point I had only seen D.C dresses online so I wondered whether they would look anything like the photos - the truth is photos can't do these dresses justice. They are so well made, the quality and richness of the fabric, the petticoats underneath, the way the fabric falls and the designs are just so sophisticated. For brides considering ordering online or wondering if it's worth a bit of hassle to track down a D.C gown – just do it! You won't regret it."


Photos: "Our photos were taken by our good friend Pawel Pentlinowski of photobypawelp. Ordinarily I would be reluctant to mix friendship with business but we trusted him completely and we knew he'd capture our day beautifully. Our photos are even better than we expected."