Today's Fabulous Friday couple is Tracy and Chris. You might want to have a tissue handy because I was bawling like a baby! We wish them the best!
Couple: Tracy and Chris Harvey




Location: Castle Rooms, Uddingston, Scotland 19th April 2014

Theme/Colours/Style: "As Chris proposed on a holiday to the Big Apple, we wanted to include elements of New York into our wedding. Being an Easter wedding we knew that yellow was a colour we wanted to feature, and we paired it with grey, thinking of the yellow taxis of New York City against the steely grey buildings. The golden yellow and grey also allowed us to tie in the tartan from our local football team, Motherwell FC as we are both avid fans. We even spent a part of our budget returning to New York to collect table decorations like street signs and best of all…… to visit the Dolly Couture showroom to choose my dream dress!"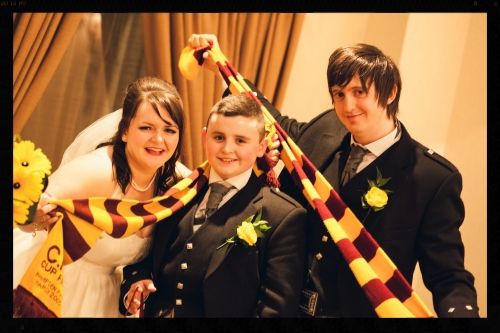 "The beautiful Castle rooms was awash with golden yellow gerbera daisies and charcoal grey runners and chair covers. The Groom and groomsmen wore traditional kilts and the bridesmaids wore stunning short charcoal dresses with flower bouquets to match the bride."

"We chose a venue which was set in the beautiful town of Uddingston where the famous Tunnoch's bakery is. There are lots of old tenement houses and quaint streets around the venue which gave plenty opportunity for some not-so-traditional photographs. It was a very relaxed day with only 60 guests, great local food and a fab band in the evening who played songs from Resevoir Dogs and Pulp Fiction, some of our fave movies. This really set the tone for the evening party we wanted! We had our first dance to 'You never can Tell' by Chuck Berry. As it was Easter Saturday we gave out Creme Eggs as favours too."
Dress: "I am so unbelievably grateful for the help I received from Yvette at the Dolly Couture showroom in New York for giving me so many options and for helping me choose. I was quite anxious as I left my fiancé to go choose a dress on my own. She even set up a Skype call home for some of my friends and family so I felt that they were there and I got to hear what they thought. In the end I chose the Tuscany dress which was not what I thought I would choose at all! I had a vision of the Beverlywood but as soon as I tried on the Tuscany I knew it was the one. I had a halter strap added later for support, and it was a massive hit on the day! Especially when I paired it with my grey converse for dancing in the evening. Short dresses are hard to come by in Scotland and our photographer commented that it was the nicest short dress he had ever seen!"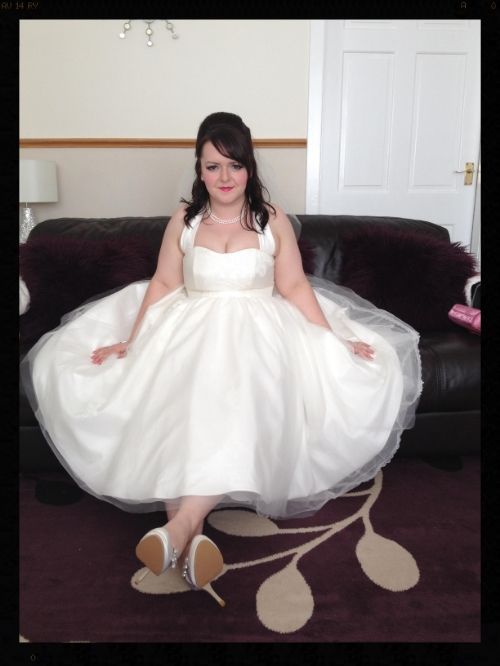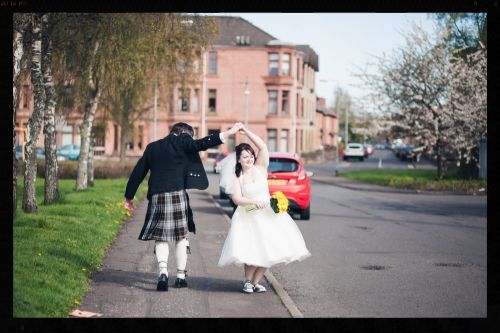 Favourite moment: "It's so hard to choose a favourite moment as the day was everything I hoped for and more, but I think I'd have to say when Chris dropped my ring! He was holding it whilst saying his vows and just as he was about to put it on my finger it fell and rolled across the floor. The place was roaring with laughter."
"I also will really treasure the speech by my husbands Granddad, who is 89 this year. He lost his own wife 11 years ago after 52 years of marriage and he said he wished us 52 years and more. There wasn't a dry eye in the house. He did lighten the mood again after dinner by starting a good old Scottish sing song though! "

Why Tracy chose Dolly Couture: "I have always known I would have a short wedding dress. I have always had a fascination with all things vintage and feel that the 50s style suits me especially since I'm so short. I found Dolly Couture long before we got engaged and always imagined I would have one of these dresses. Well my dream came true!"
Advice for Dolly Couture brides: "Take time to sit back and take in your day. Its so true what people say, it goes by in a heartbeat. You want to be able to tell your grandkids about it, after all you spent so much time planning it! Look at everything around you, see the smiles on your guests faces, relax and dance! This was the best advice I was given and as a result I have so many wonderful memories to treasure."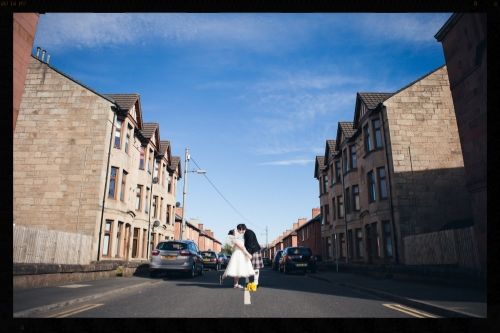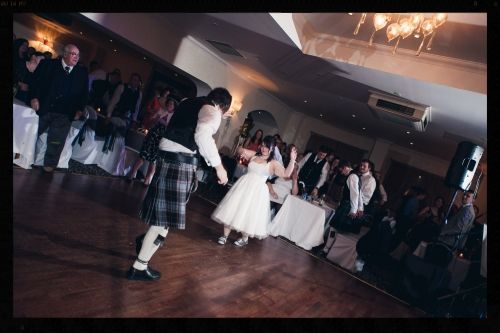 Photos by: Stevie at Autumn Leaf Studios Hamilton