Today's Fab Friday bride is Holly. I remember the day we received her dress at headquarters...we couldn't stop looking at it, and you've never heard so many oooooo's and ahhhhh's. I loved the tulle sleeves and the tulle skirt together. But what really made the dress come alive was the mint belt. Holly had a vision, and we executed...those custom gowns are so much fun for us! We love seeing how much creativity our brides have. Holly is no exception! The photos are just gorgous, and I love how everything all came together.

Couple's Name: Holly and Evan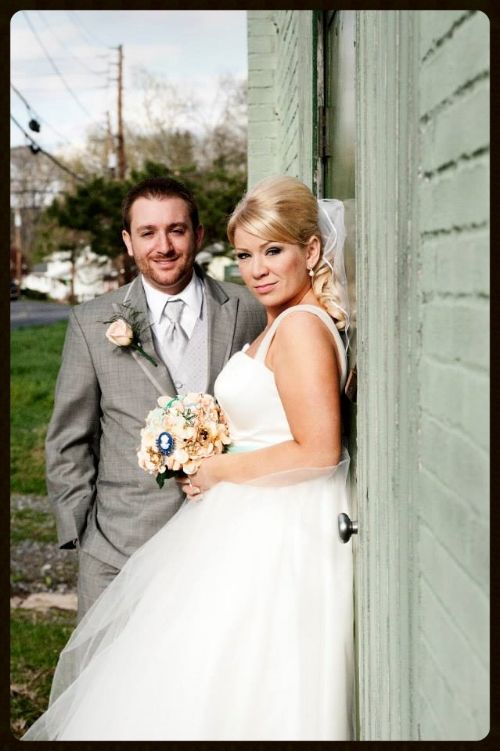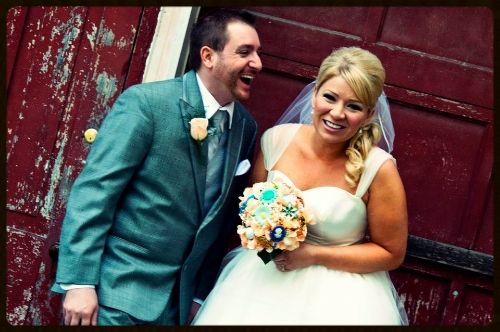 Wedding Date & Location: "April 20, 2013. Ceremony was at Stone Valley Church in Hickory Corners, PA (dates back to 1796) and the reception was held at The Front Street Station, in Northumberland, PA. (The Front Street Station used to be a train station in the 30's, and has since been converted into a restaurant/banquet area, but still maintains the original train cars in the banquet hall area for seating.)"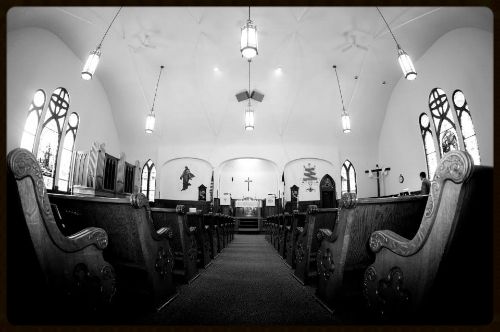 Theme/Color/Style: "We jokingly referred to our theme as 50 Shades of Mint, since we ended up using so many variations on the color! I'd say our overall theme was vintage but mixed with down-home country - a lot of handmade, DIY touches. I handmade the programs, the centerpieces, the namecards, etc. It was important for us to stay within budget, and make our wedding affordable and accessible for our guests and wedding party as well. (Our bridesmaid dresses were handmade and purchased from Etsy.) Our main color was mint, with accents of peach."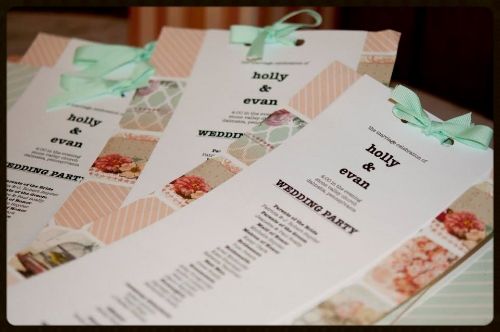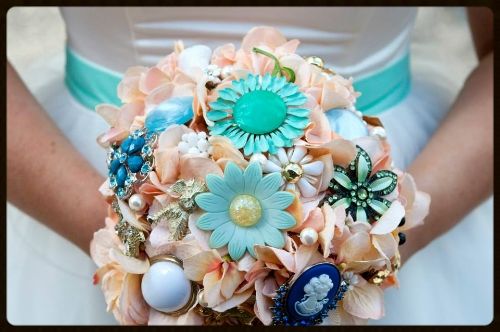 Dress: "My dress was custom Dolly Couture, and was drawn by one of your artists from a few pictures I sent it. It was exactly what I had dreamed of, and I couldn't find anything like it anywhere else - I looked! I had only been one place to try on dresses and wasn't really happy. A friend from London had gotten her dress from DC and recommended you. The dress was perfection from the moment I tried it on, it fit like a glove, and I never even had to have it altered- that's how perfect it was. Being pretty short, I loved that I could have all the tulle I wanted but at a shorter length that complimented my height, instead of drowning me in fabric. I also adored the capped tulle sleeves, which I felt really gave the dress something different and made it stand out from other silhouettes."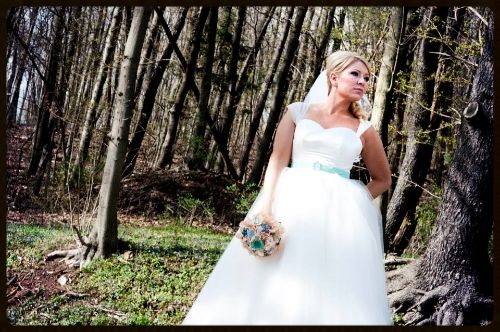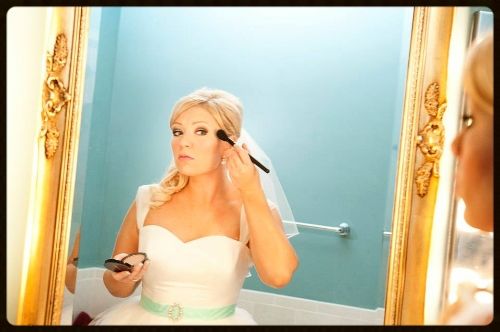 Favorite moment(s) from the wedding: "Our favorite part of the wedding was having our friends and family so present and involved - a close friend performed the ceremony, another was our photographer, and another the DJ. Everyone banded together to play a part in the day which made it very special for us - - and even our dogs took part (one was walked down the aisle by my niece, and the other was carried by one of my Bridesmen.) The most memorable and fun parts definitely happened during the reception. Old friends, new friends, college friends, relatives- everyone joined in the dance party and kept the reception hopping until well past our intended finish time. High heels and ties came off, and everyone really cut loose and had a great time- which is exactly what we wanted for our guests!"

Advice for future Dolly Couture brides: "Try not to worry about how things "should be" or "should look" or even what you "should" do! Do what feels right, and what makes you happy. It certainly can be overwhelming, but try to stick to a few key aspects of your wedding that are most important to you and your partner. Think about the things that you will remember 25 years from now or 50 years from now! And most importantly, remember to have fun! It will all go by so quickly and be over before you know it."