Today's Fabulous Friday is a day early because I know all you love birds out there are NOT going to be reading a blog. :)
Nicole's recap gave me goosebumps! As a newlywed, I concur! Make it your own. Make it yours. Make it unique.

Couple: Nicole and Austin

Location: Grand Rapids, Michigan

Date: July 26, 2013

Theme: Bright Vintage with a heavy music/record influence
What she wore: Sweetheart Manhattan with Catalina polka dot overlay and a raspberry chiffon petticoat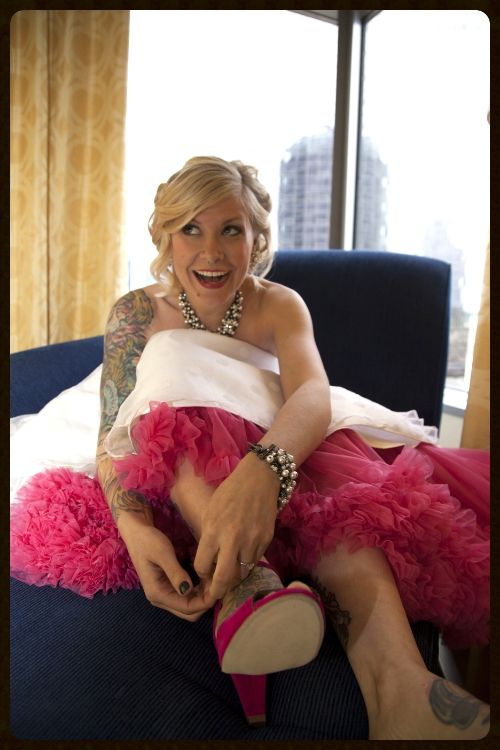 Favorite moment from the wedding: "I feel like it went by in a blur, and I had so many amazing moments. One that really stands out for me was our first look. I had been super anxious the whole time we were getting ready and I couldn't sit still. By the time I got to the top of the stairs to walk down to Austin, and I could see everyone in the bridal party watching me, I was shaking like a leaf. It felt like it took me forever to walk down the stairs (Austin said it sounded like I ran!) and then I just burst into tears and he just held me, and all my nerves went away. I wasn't nervous at all, it was complete anticipation about the fact that I was finally getting to marry my love! (We were together for 8 and a half years before tying the knot!)"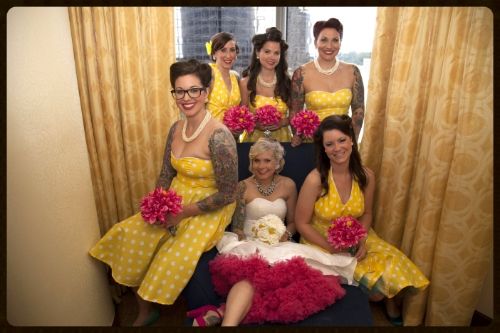 What made you choose Dolly Couture? "I had originally went shopping at traditional boutiques and picked a dress and wasn't too sure about it. Then I found Dolly online and found out you could customize your dress and I just knew I had to have one. Being able to make my dress EXACTLY what I wanted, and not having to compromise on anything was perfect for me, and I am so happy with my decision. I've always loved pin-up and love that I got to incorporate it into my wedding."

Any advice for future Dolly Couture brides? "DO WHAT YOU WANT! I know so many people who did something at their wedding because someone else wanted them to do it. Why? It is you and your partner's day, and you should make it a reflection of yourselves and your relationship. Every last detail of our wedding was hand-made by us, or was placed there for a specific reason. We used records as place settings. We didn't have alcohol. We didn't have religion. We played punk/metal music. We served fajitas and bottled soda. If someone didn't like it, that was their problem. My husband and I woke up the next morning and looked at each other and agreed; our wedding was perfect. Every couple should have that same feeling!"